Below you'll find articles, charts, check-lists and "how-to" handouts about industry trends, state-of-the-art marketing practices, stratigic planning techniques, member surveys…and more!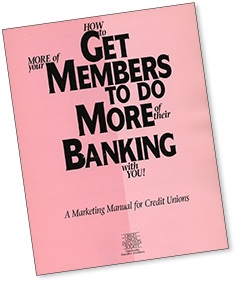 And OK, we won't exactly be humble about it. We "wrote the book" on Credit Union Marketing and High Performance Management processes. Three of them, in fact. All were published by CUES. One is posted here as a download. And it's free!
---
Click any of These:
Industry Trends and Directions
Market Research
Strategic Planning
Branches and Facilities Design
Smart Marketing Strategies
Marketing Techniques and Ideas
---
Looking for answers not included above? E-mail us a note about anything that's market-related. We'll get back to you!